C is for Cliché
I'm presuming most of you already know to look out for those phrases that make everyone roll their eyeballs (is that one there?) but are you watching for it in your story? I ask this because only recently did I realize I'd committed a major writing faux pas.
I had a mirror scene.
I can hear you gasping. I know. I thought it was a legitimate way for the reader to take a peek at my main character, but now that I know what a "mirror scene" is, I will avoid it like a yawn-inducing plague. (Avoid using 'avoiding the plague' unless you're writing about a plague.)
And, because I know to look for ye ol' dreaded mirror scene (did you know 'ye' is actually short for 'the' and not 'you'? I just learned that), I am on the prowl for other story clichés. I am no editor or agent, but I'm guessing a few well-placed story clichés are acceptable, but for the most part, if your reader can guess what happens next, why would they bother reading it?  And if they're not reading it, why bother writing it?
There are some readers that adore it. Someone in my marriage, not me, happens to relish it. He (just gave it away didn't I?) wants to know that things will work out. The hero will score with babe, overcome the obstacles, and vanquish the villains. And he wants to know these things WILL happen through a set of traditional queues. I can't stand that type of story. I outgrew that in junior high. Surprise me! I think most readers are like me, or I should say, I hope my readers will be like me and expect surprise. Go on, darling, wow me!
I looked for something online that would give me (and you) a handy way of finding these types of scenes, but I couldn't find much. So here are my best guesses.
1. Run your MS by your critique group. Don't have one? You need to find one, ASAP (that's a bonus tip). It's not good enough to have a friend read it over, because even a friend in the biz isn't going to be your most objective critic. It's like a doctor treating a family member. Don't do it. Find someone(s) whose work you respect and swap an MS. It's good to have critique partners who write other genres to help you balance out your work, but you need someone who writes the same genre that you do, too. You need someone else's eye to see the predictable stuff.
2. Read your MS into a voice recorder and listen to it. Sometimes the ear can pick things up that your eye would never catch.
3. Ask yourself, "is this the strongest/best way to say this?" Sometimes it will be a cliché, but because it'll be rare in your MS, it'll stand out, in a good way.
Do you have any tips for catching these little boogers? Are you cliché-aware? Have you found any good resources that helped you sift the clichés from your work?
This "C" blogpost is brought to you by the A to Z meme. Join us by reading or posting your own!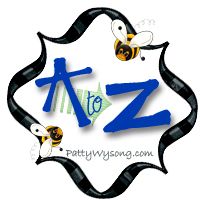 Powered by Linky Tools
Click here to enter your link and view this Linky Tools list…