E is for Ego
This week I'm approaching this editing series a little differently. This is mostly due to the scrambledbrainitis I'm experiencing. I'm trying to earn my NaNoWriMo 50,000 words badge, and trying to do that while solo-parenting at the same time has been tricky. So this will be brief.
When you're editing, you have to check your ego. Really. As awesome as you are, you probably need a snap-out-of-it slap now and then to keep you grounded. I think I saw a post on Twitter the other day, about yet another massively successful and usually excellent author's last book being a real flop. It will happen. Big, fat forkfuls of plump humble pie straight to your mouth. So do your best every stinking time. If it ever gets to the point where you think you can get by without the work, then you probably need to take a break from writing.
There are loads of posts on this, but this writing-relevant post had a lot of good techniques for it: How to Handle Criticism of your Writing.
Personally, my foray into critiques & criticism happened on-the-job. I was a church secretary for a few years. The second a document would leave my computer, the critiques would roll in. And it wasn't because I was sloppy with my end of things. It's just part of writing anything. The words aren't just the writer's, but the reader's. Actually, they are more the reader's possession. That job helped me learn not to take the critiques personally. I simply needed to convey what the entity (in that case, the church I worked for) wished to be communicated. It's the same for a novel. Novels have something they're trying to communicate, too.
If you've got tips on that, I'm listening. If you've got a great Humble Pie a la mot (I think that's humble pie with a side of words) share it in the comments.
This "E" blogpost is brought to you by the A to Z meme. Join us by reading or posting your own!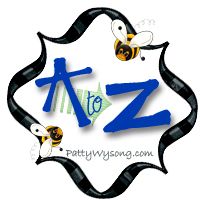 Powered by Linky Tools
Click here to enter your link and view this Linky Tools list…