F is for Faff
Hello readers! First, I feel the need to both apologize and warn you- any posts in November will have a long delay in comment approval and replying. Tis' the nature of NaNoWriMo for me. You see, I can't afford to faff around during November or my word counts don't materialize. What's faff? It's a great UK term I picked up from hanging out with my cyber pals. It's fun to say. Try it. Faff. Faffing. Nice, right?
What's it mean? It's equivalent to our American dilly-dally. And when I thought about editing and f-words, well, the first one that came to mind isn't appropriate and is only uttered when I'm extremely frustrated with a plot line or similar, and the children aren't around. But the other word that came to mind was faff. There is no room for faffing around when one is writing or editing. The only thing (putting aside all excuses) keeping my work from being "out there", is me faffing around. It's me stopping to check Facebook, me checking the weather to make sure it really is miserable and that I definitely should be indoors writing. It's me checking my calendar to measure out exactly how long I have to write. It's me comparing my Word word-count to my NaNoWriMo word-count. I have no limitations on my ability to faff. I'm not sure I used it correctly there, but rather than do another google search on faff, I'll just trust it's okay.
How do I keep myself from faffing around? One of THE most helpful things I do is use a timer. I hated timers as a kid. They were only employed to keep me from a treat baking in the oven or to keep me from getting back to antagonizing my sisters. But now, it's me against the clock. Can I possibly spend the whole time working on that scene/blog post/transcription? Oh, I bet you can't. You'll get distracted, I say to myself. No, No, I protest, I'll work the whole time and beat my old word-count. Ha! I say back. You'll run into an anachronism that you just HAVE to check out. No, I know how to handle those. Now shut up so I can work!
Maybe "I" will need to be for Insanity. Hmm.
The other thing I do, to minimize faff, is to only let myself get up from my chair after that timer has gone off. Need to pee? Desperate for more coffee? Leftover Halloween candy calling your name? Too bad!! Not until AFTER the timer goes off.
Those are my two biggest antidotes. Do you have clever anti-faff tricks? Is faff a problem for you? Have you never faffed around? Share your wisdom or commiserations in the comments.
This "E" blogpost is brought to you by the A to Z meme. Join us by reading or posting your own!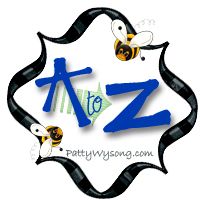 Powered by Linky Tools
(I did not mean to "like" my own post, sheesh. Not sure if that shows up or not. This is an addendum to the apology & warning at the top. It also means I won't get around to commenting on most of the other posts until December. I'll make it back to your blogs, I promise :). I enjoy it.)
Click here to enter your link and view this Linky Tools list…