G is for Grapheme.
I am so kidding!! Well, a little not kidding. Do you know this word? Grapheme? I just learned it. It is a letter (or a symbol similar to a letter) in an alphabet. And in some manner all editing does involve graphemes but that's not why I'm posting about it.
I'm mid-NaNoWriMo and my brain is in that weird fluctuating state between hyper-lucidity (thank you copious amounts of caffeine and sugar) and hypo-lucidity (complete brain mush from the sugar drop and lack of sleep). I've dropped my other two regular writing tasks (the novel-in-revision and the biography) in order to use any spare moments for this month of brand new novel writing, but God help me (yes, it is an actual prayer and I considered it as an alternative post title) I'm having trouble this time. I love the story that's developing. Lots of nice twisty plot stuff and interesting characters. But I am having trouble sticking with it. I could say it's my kids, or home, or husband, or life (fill in excuse here _________________), but I think it's mostly me.
I'm not sure how to combat this other than taking things one grapheme at a time. Plunk a letter down, hope another follows. This is the part of any long-endurance feat I hate. On Kilimanjaro, this was summit day and I was hours from the top. I sat down on a rock and cried. My husband would have chided me if he had the strength between running behind his own rock to vomit or poo– he got quite sick. But we had a guide along, and he (probably so tired of all the versions of me that had come and gone before– or… I've always wondered… was I the only person who ever wanted to quit then, do I stick out like the big American baby thumb that I was… I'll never know) said, "my sister (I love that part about Africa, my brothers and sisters) I would let you sit here and cry, but you cannot. If you stay here, you could die. You need to keep moving. I will help you." And he did. Pole Pole. One step followed by one breath followed by one walking stick moved forward. And eventually, I saw the summit. Childbirth, half-marathons, novels. These are things I have loved being part of, but wow they take a lot from me. Maybe I need to approach this feat more like I did the physical ones. Proper nutrition, lots of fluids, rest, and training.
Maybe.
Although there is something appealing about writing with chocolate. I'll have to ponder that some more, with my coffee.
I'm off now. Off to put another grapheme into my novel. Hopefully thousands more.
Are you climbing a mountain right now? How do you keep yourself going when you're out of oomph?
This very loosely tied into my theme  "G" blogpost is brought to you by the A to Z meme. Join us by reading or posting your own!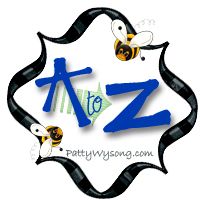 Powered by Linky Tools
Click here to enter your link and view this Linky Tools list…